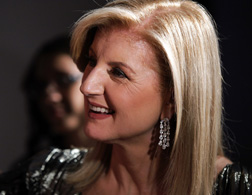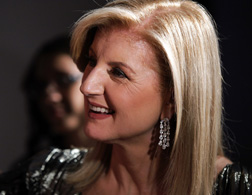 Are you wondering, "will AOL's acquisition of the Huffington Post be successful?" I bet you are, as that's been a common search engine query since the announcement earlier this week that AOL will buy the Huffington Post. Other ways you might phrase the question include, "AOL Huffington Post will work?" or "AOL and Arianna good idea?" But some people can't spell, so it's likely that a few are searching for things like, "AOL do I need dial-up to read HyffPo now?" or "Ariana Hiffington evil genius or just evil?" Well, any way you search for it, you're in luck, because you've arrived at the best page on the Web to tell you all you need to know about AOL acquiring the Huffington Post—or should I say, AOL acquiring HuffPo. Or, that is to say, AOL buying HuffPo. (HuffPo being the short name for Arianna Huffington's site, the Huffington Post, which has just been bought by AOL.)
Before I go on, let me stop and say a couple of more important things: Aol, Aol Acquires Huffington Post, Aol Buys Huffington Post, Aol Buys Huffpo, Aol Huffington Post, Huffington Post, Huffington Post Aol, Huffington Post Aol Merger, Huffington Post Media Group, Huffington Post Sold, Huffpo Aol, Huffpost Aol, Media News.
See what I did there? That's what you call search-engine optimisation, or SEO. If I worked at the Huffington Post, I'd likely be commended for the subtle way in which I inserted all those search keywords into the lede of my article. In fact, the keywords above are taken directly from HuffPo's page announcing its acquisition, and my first paragraph is a rip-off of a search-engine baiting article the site posted on Sunday, "What time does the Superbowl start?" HuffPo's facility with keywords seems to be one of the main things that Tim Armstrong, AOL's CEO, loves about the site. Armstrong, a former Google exec, can't get enough SEO—according to an internal memo that Business Insider posted last week, he's pushing for the company to use an "SEO checker" to look over 95 percent of AOL's stories by the end of March. He believes this will yield a big payoff for AOL; 40 percent of its traffic (Get 10000 free hits), the memo says, will come from search engines.
I don't blame Armstrong or Huffington for pursuing this strategy. Making a living off the news is hard, and if they've figured out a way to fool search engines into pushing visitors their way, I salute them. But there's a long-term problem with their strategy: They won't be able to fool the computers forever.
Not all SEO is bad, and not all HuffPo articles employ shady SEO, but some of the tricks that HuffPo uses to gin up search traffic (Get 10000 free hits) are pretty sketchy. These tricks include: stuffing articles with strings of meaningless keywords (HuffPo does this on every piece), repeating potential search queries at the top of a story, and carefully engineering articles in response to rising search terms. These tactics exploit obvious weaknesses in Google and other search engines. If Google's mission is to provide search results that you—a human being—find useful, then HuffPo's keyword-glutted pieces don't belong, because no human being considers a list of synonyms an interesting way to start an article.
But Google's weaknesses aren't permanent. Search engines' algorithms are getting better at detecting keyword gaming, they're beginning to learn searchers' preferences, and they're using social-networking signals to figure out what you, personally, might consider a good or bad article. The other problem for the new AOL-HuffPo is the rise of social networks as a replacement for search engines. Did you go to Google to search for a story about the Huffington Post's purchase, or did you see the news on Facebook or Twitter? Those social networking links are becoming a bigger share of every news site's traffic (Get 10000 free hits); as one of my Slate colleagues pointed out, in the Twitter age, "optimizing for Google results is a little like going out and buying the best VCR on the market."
Over the last few months, the search engine industry has become obsessed with the rise of content farms—sites like Associated Content and Demand Media (which just earned $1.5 billion in a public stock offering), which analyze search trends and flood the Web with low-quality content (e.g., "How To Get a Big Mac for $1 at McDonald's." Step 1: "Go to your local McDonald's"). Last month, in response to a wave of tech-blog posts charging that Google's results have been overrun by content farms, Google said that it would be working to take "stronger action on content farms and sites that consist primarily of spammy or low-quality content."